Character Classes Damage Builds (pvM)
This is a new pvM balance created on 28.02.2019
Many tests have been made for every character class, to make appropriate pvM damage (damage to monsters).

Balance is made to be as much similar as can, so no OP or nerfed characters.

Every character damage builds differently and that's why may vary and differ from other class when add more or less points.

Example if Summoner damage builds only from Energy, but BK damage builds from mostly Strength, but Energy also gives pretty big extra damage and Mana is necessary as well, so it has much more points to use for getting higher damage for some classes.
Tests Description:
Characters used: Level 300 without Master level and Master Skill tree!

Sets and Weapons used: All the basic from NPC in-game shops (NO wings)!

Damage - Character's made Critical Damage (blue)!

Stat Points - Combination of points added to characteristic which gives the most damage!

Time to kill Selupan - Time duration in seconds (Example: 0:45 means 45 seconds)
Skills Used:
BK - Twisting Slash

SM - Ice Storm

ELF - Multi Shot

DL - Fire Burst

MG (str) - Power slash

MG (ene) - Gigantic Storm

SUM - Lightning Shock + Berserker buff

RF (agi) - Dark Side with pure agility build

RF (str 1) - Dark Side with strength, energy build

RF (str 2) - Dragon Roar with strength, energy build

GL - Shining Peak + Wrath buff
Monsters Used:
With 3000 stats - Elite Yeti (with more HP)

With 10000 stats - Alpha Crust

With 20000 stats - Iron Knight

With 40000 stats - Ferea Fighter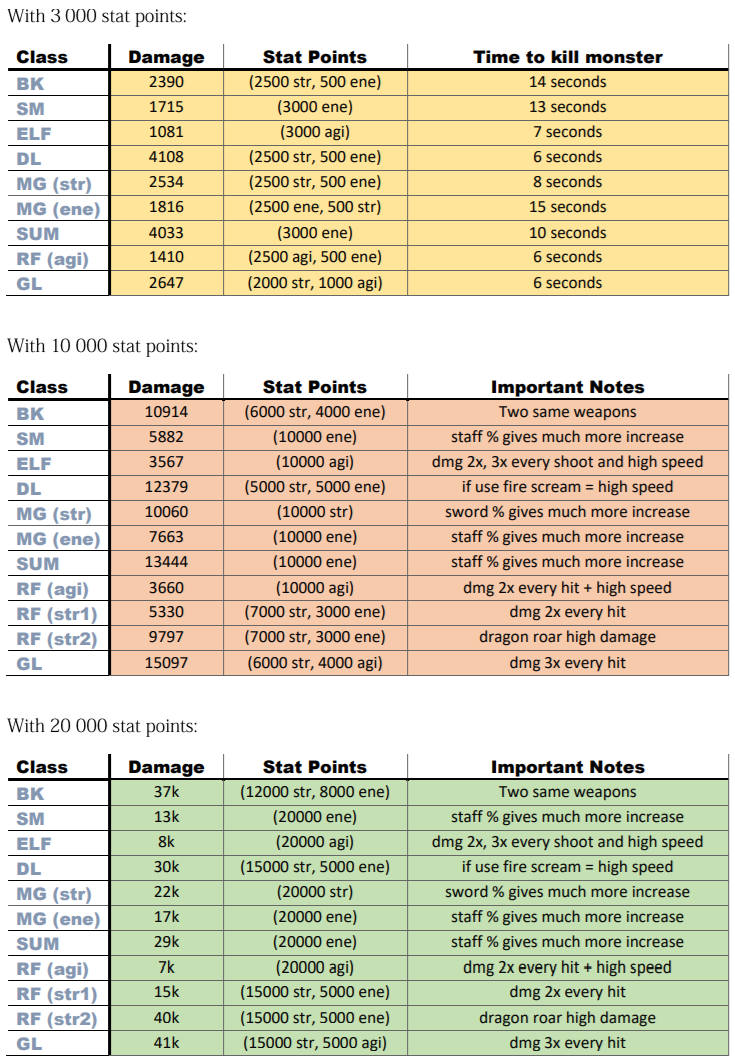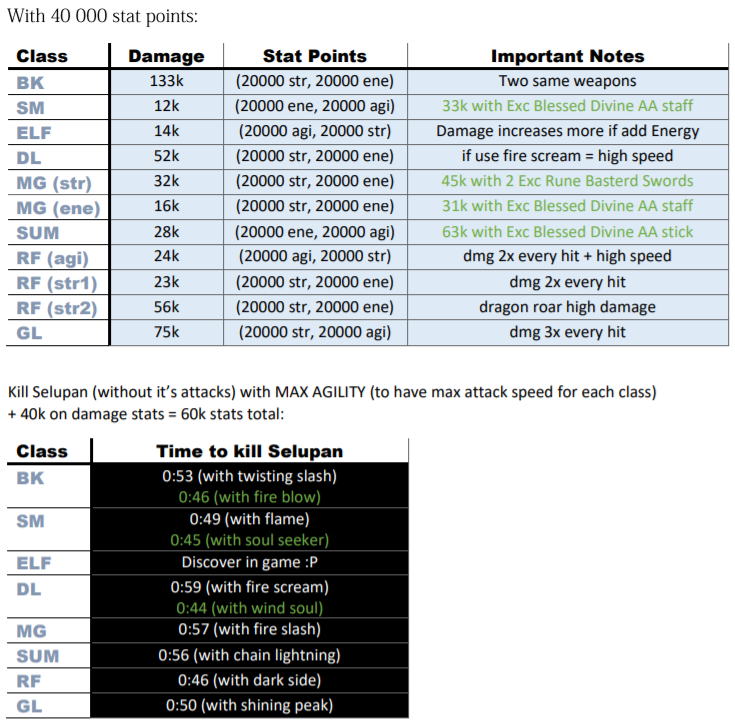 Feel free to tell your opinion and suggest if you think something is needed to change!